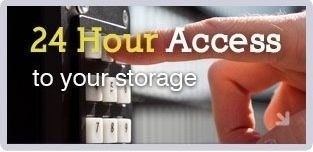 No Deposit To Pay
Only 14 Days Minimum
24 Hour Monitored CCTV
Various Sizes
Only Pay For The Days Used
Extensive Access Hours
High Perimeter Fencing
CCTV Throughout The Facility
Business Storage in Yeovil
There are many distinctive business types that regularly use our self storage in Yeovil. Many use our excellent facilities to store business stock, or tools, others use it as a safe area in which to store surplus office furniture or promotional materials. We recently had a customer at another location store 1.5 million pieces of greaseproof paper for a takeaway business! That took up an awful lot of space, you can take our word for it!
Quickness and Ease
Our customers benefit from being able to access their goods 24 hours a day and seven days a week, so storing with us couldn't be any more agreeable. The building at Yeovil is modern and high tech, also allowing our customers to drive right in to the site and park right by the loading bay doors. The time saved by not having to speak to any staff each time you access your room really does add up over a year, you'll be surprised what else you could be achieving instead of having to sign in and out each time you need to access your goods. Access is by a modern PIN entry system, meaning you can quickly come in and out as you need. Ask one of our members of staff about 24 hour access, it's very easy to set up and use.
Security
Equal to our customer service, security is the number one priority of UK Storage Company, and you can be sure that while your goods are stored with us they will be properly protected. Whether you're storing a priceless art collection or simply paperwork and archive files, we are the right option for your storage. Our Yeovil self storage facility in Somerset has a 2.4 metre high perimeter fence surrounding the site, and access is for customers only and is via a PIN entry pad. Our CCTV system is very contemporary, giving us unprecedented access to the whole site, and is recorded and captured 24 hours a day and seven days a week. Every entry in to and out of the site is logged on both our software and the CCTV, so should any incident occur on site then we can recall exactly what happened and who was involved. So when you retrieve your pantomime horse outfit for the Christmas panto make sure you're smiling! You are the only key holder to your room, so even our staff do not have access. Each room is locked using a unique, high security barrel lock which we import from the United States. This ensures that the rooms are inaccessible by anyone bar you, the key holder.
Flexible
The bill you pay with us here at UK Storage Company is inclusive of electricity and any business rates, so you only have one invoice to pay. Our business quotes are provided excluding VAT; this is the only difference from the residential storage price. Speak to us today if you need storage in more than one location, as we can offer great deals on storage at multiple sites. You are free to change rooms at any time should you suddenly require more or less space as your business needs demand. Should you need to end your contract in a hurry as well, we simply require just 14 days' notice and the contract can end. You have the option of 24 hour access or standard hour access, just speak to our friendly team to find out more about this and any of our features. Bank holiday access is standard for all our customers, so you won't be restricted to hours that don't fit with your business model.
Online Contracts
To save time and effort, our contracts can be completed online in advance of the rental beginning. A huge benefit of this is that the contract can be signed for by an account holder at a head office, for example, and the actual room can be used by multiple users as the lock comes with three separate keys. This is great for larger companies with many agents needing access to your room throughout the working week.
Accessibility to the town centre and beyond
Based on the edge of the Pen Mill Trading Estate, our Lyde Road location allows good access to Yeovil town centre as well as other local places such as Sherborne.
Lyde Road, Yeovil BA21 5DP
Please call us on: (01935) 581040
Free Access Hours:
Monday - Friday: 8:00am - 6:00pm
Saturday: 9:00am - 6:00pm
Sunday: 10:00am - 4:00pm
24 Hour Access Available