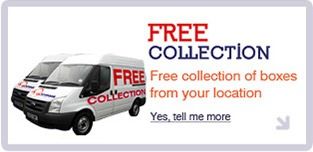 Separate dedicated storage area
Racked storage
Collection and delivery service available
Helps you free up expensive office areas
High security including 24 Hour CCTV
Fully managed document service
Trace and manage your documents
Archive boxes sold on site
Collection and Retrieval
Once you've made the decision to use UK Storage Company for your secure document storage, you can pre book a time and a day for us to come and collect your archive items - with the collection being absolutely free. Your documents will be collected by our trained, professional staff in a quick and timely manner. With only 24 hours notice, we can also retrieve your boxes from our secure warehouse at your request and deliver them back to you at your office or where they are needed. If you'd prefer the documents sooner, or something is needed in an emergency, you are welcome to view your documents on site with us. This will save your business a lot of time and expense searching for your own documents, or the time and money spent on travelling between your premises and ours.
Highly Organised
Once we have collected your document storage boxes from you, each box is given a reference number and a specific space within our secure document storage area. This enables us to locate any given box very quickly and without error. You can relax knowing that your files are all in order and our customers are given an itemised list of exactly what they have stored and where, so no more searching for a certain file through hundreds of boxes.
Security and confidentiality
The security of your stored documents is our priority, with sensitive information needing to be stored for up to 10 years in some cases, we understand the importance of both high security and organisation. Our document storage area is only accessible by trained members of staff, which enhances the confidentiality and security. These staff are bound by confidentiality agreements when dealing with documents and our customers. Our services are used by many business sectors, from legal to medical, charities, government bodies and everyone in between – organisations small or large.
Smoke detectors monitor our document storage area 24 hours a day, as well as intruder and fire alarms. There are no windows to the outside within our area, and modern, sophisticated CCTV covers the entire facility. We are frequently visited and checked by a local pest control agency, and the document storage area is also above the ground floor, to prevent the risk of any flooding.
Time and space saving
Free up space in your office or your own warehouse by storing your archives securely off site with UK Storage Company. Often stored documents take up vital office space and can become a hazard if they are not stacked correctly. At UK Storage Company this hazard is removed by storing your documents in our fully racked out warehouse. No time is wasted by staff searching for a certain box or file, this is taken care of by our staff and our quick and efficient method of retrieval. Often organisations store with us just to benefit from the savings created by freeing up needless hours spent by staff searching through boxes.
Simple off-site document storage
We build and maintain a great working relationship with our customers, making document storage easy and cost effective. With our simple database system we can find your documents at the click of a button. As everything you store with us will have a unique address within our warehouse, locating a particular box is a quick and easy process, even at very short notice. Our knowledge and many years of experience of how to securely store documents will be of great benefit to any business. We utilise our methods of best practise that we have gained through working with companies both big and small over the years.
Secure destruction
When your documents are no longer required to be stored, we can provide a service to ensure the secure destruction of your files. The 1998 Data Protection Act states that a company director or business proprietor may be liable if personal information is not destroyed in the correct manner. UK Storage Company will ensure this is taken care of properly and professionally. Should your sensitive and confidential files end up in the wrong hands, this could have a huge impact on your reputation and your business. The secure destruction service that we can offer you makes certain that all information is compliant with regulations and completely unusable. Paper is shredded and then recycled, thereby having a positive impact on the environment as well as providing a service to our customers. Thousands of trees are saved each year by companies that recycle their paper waste.
Box supply
We can supply you with the perfect boxes for your documents, however should you wish to purchase them elsewhere we can advise you on the dimensions required, 99% of office supplies companies stock suitable archive storage boxes that work with our racking system. We also supply any other packaging materials such as bubble wrap, packing tape etc. should you require them.
Unit 3, East Quay, Bridgwater, Somerset, TA6 4DB
Please call us on: (01278) 424 374
Monday - Friday: 8.30am - 5:30pm
Saturday: 9:00am - 4:00pm