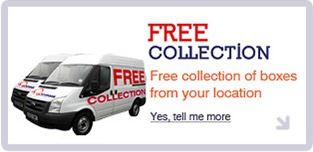 Separate dedicated storage area
Racked storage
Collection and delivery service available
Helps you free up expensive office areas
High security including 24 Hour CCTV
Fully managed document service
Trace and manage your documents
Archive boxes sold on site
Document Storage In Bristol
Free Collection
The first step is often the hardest with anything in life but not with document storage. As soon as you've given us the go ahead we can get a time slot booked in and arrange free collection of your archive items.
Database Managed
Keeping track of documents, files and other information stores can be a difficult and time consuming task. With our professional, managed approach there is complete traceability throughout a box's journey. We provide a clear paper chain showing a document's journey from your organisation to us and then either back to you or at the end of its use, secure, managed destruction.
The primary benefit of using a professionally managed record management system is that it takes away the hours wasted by staff searching for boxes. Organisations produce a large amount of documentation so tracking a document from start to finish can be hard to manage. You will benefit from us using best practice methods that we have learnt over the years by working with organisations of varying sizes and industries.
We can at the click of a button track each box and know it's exact location. Each box has it's own address within our warehouse and can be located quickly and easily by our staff.
Reduce costs
Often the move to a record management company is fuelled by cost. This can be simply freeing up space that can often be an expensive way to store your information. Sometimes this is allowing an office to be used for its primary purpose again or rented out. Other times it can be allowing expansion room within a warehouse or production area.
The other main benefit is saving the staff hours spent searching and handling archiving. These additional expenses can often be hidden with time spent travelling to and from document stores, locating the documents within those stores and then replacing them at the end. This is a worry and cost we take away and document retrieval is never somebody's favourite job!
Transparent and Calculable Pricing
Our fees are clear and set out from day one. We provide you with a schedule of pricing document so you know exactly what you are paying and what for. Rather than the hidden costs discussed above, our managed system allows you to budget for the use of your record / information storage.
Health and Safety
This can be an issue when storing documents and boxes at your business address. Often the boxes are put in a place that is unusable for anything else – and with good reason. They are often kept in basements with low ceilings, down or up stairs that are difficult to navigate or kept in precarious positions where one false move and the whole lot could come down. We've collected boxes from beneath swimming pools, in areas called "the dungeon" and from basements where there was more greenery indoors than outdoors!
Letting us manage your boxes means your staff are no longer presented with these situations and we take away those worries. Your staff are then left with a safe environment and a lot less time lifting boxes.
Secure and Confidential
Our facility is secure, with security procedures throughout. The building is surrounded by a perimeter fence which is monitored by recorded digital CCTV. The building itself has an intruder alarm and is fitted with smoke alarms running throughout the inside of the building.
Access to the document storage area of the building is regulated so that only trained authorised staff can go in to the required areas. This is key to our security with clients who have confidentiality at the top of their list. We store information for hospitals (including patient records), accountants and solicitors. Items such patient past histories and structural plans are often required to be kept many years, we are happy to advise on the legal required length of time to keep such records but we suggest you make your own enquiries with the relevant authorities.
Who Stores With Us?
As well as the companies and organisations mentioned above we deal with companies of all sizes, from large firms storing thousands of boxes to small companies storing a small quantity of boxes such as invoices or client records.
Secure Destruction
When it comes to the end of a box and its contents life span we can arrange for secure, professional destruction of the boxes. The process starts by you advising us of which box or boxes need to be destroyed. Once we have verified this with you, each box goes through a three point check whereby the box is checked by three members of staff to confirm it is the correct box being destroyed. This includes one manager and also a senior manager or director. We take destruction that seriously, after all there is no going back.
We then use a professional destruction company to carry out the destruction itself and they provide you with a certificate to confirm it has been destroyed.
Collection and Retrieval Service
Marrying a careful mix of easy access and security is at the heart of our ethos. With the database at the heart of everything we make it easy to identify your box, take it out of our storage area and then we provide a delivery service to return the archive storage in Bristol.
The old cliché rings true – Small enough to care, big enough to cope
As a small family run business we pride ourselves in looking after your archive boxes in the correct manner. Principles such as delivering them on time (and to the right address!), all our staff being polite, helpful and simply taking good care of your document storage. We'd like to have the opportunity to help you with your information management. Call us now, or fill in the enquiry form to the left.
Avonmouth Way West, Avonmouth, Bristol, BS11 9HD
Please call us on: (0117) 9825 331
Monday - Friday: 8:30am - 5:30pm
Saturday: 9:00am - 4:00pm