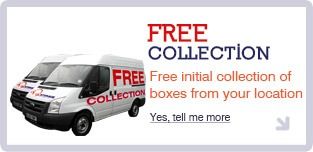 Separate dedicated storage area
Racked storage
Collection and delivery service available
Helps you free up expensive office areas
High security including 24 Hour CCTV
Fully managed document service
Trace and manage your documents
Archive boxes sold on site
Boxes Piling Up, Taking Up Space You Need? We Have The Solution.
Hospitals, lawyers, structural engineers and many other types of organisations store their confidential files with us. Why? Because we look after them in a professional manner which means they don't have to worry about them. We make moving your documents easy and we manage your future retrievals in the same manner. We free up space at your location and allow you to concentrate on more interesting things, like your own business.
We Pick Your Boxes Up For FREE!
When you decide to use us, the most satisfying call is when you ring us and say "right come and take all the boxes away". What's even more satisfying is that you pay nothing for this. You don't pay anything until your first storage charge and that's it. We supply labels for you to put on your boxes and your inventory is imported in to our database for us to manage.
Security & Confidentiality
An important element to looking after data is its security, making sure that files stay confidential and secure. Archiving your documents off site can be an important decision and you want to make sure your boxes are in secure hands. Our records facility has 24 hour recorded CCTV throughout the site, keeping a beady eye on all movements on and off site. Smoke detector and intruder alarms protect the inside of the building. The racked out archive storage area has limited access with only trained members of staff allowed entry.
Professional
There can be a sharp contrast from how a company may handle its documents internally and how we track them. We have a set out procedure as to how enter the boxes on our database and how they are stored within the facility. Using these methods we can locate any box within seconds as each archive box has its own location within the facility. Not only that but we track a box when it is returned back to its owner. Each box is given its own unique identifier meaning we are both talking about the same box when you ask for a retrieval or collection.
What does all this mean? It means you don't have to send staff on a wild goose chase looking for boxes, it means boxes are stored in a fashion that means the internal files keep their integrity. It means saving time, saving energy and freeing up staff to do what they do best - work on your business.
Transportation and Retrieval
Boxes are delivered to your door or your can view them on site should you require. When you are finished with them we collect them and return them to their address within the warehouse. All boxes are delivered and managed by our own full time staff. We do not work with agency staff and we only use our own vehicles.
See free collection for more details.
Whitehouse Street, Bedminster, Bristol, BS3 4AY
Please call us on: (0117) 9660 277
Monday - Friday: 8:30am - 5:30pm
Saturday: 9:00am - 4:00pm